Monday, December 9th
News / Articles / Hot Topics and More...
Sensory Friendly Movie
The Shandy Clinic, in partnership with Cinemark Theatres, invites you to a special showing of "Dolphin Tale" in a sensory friendly format.
A sensory friendly movie has the lights brought up, sound turned down, and is not in 3D. There are also no previews shown to minimize having to wait for the movie to start! Families are allowed to bring in their own snacks to accommodate special diets. For many children with severe sensory disorders this is the first time they and their family have ever been able to enjoy going to a movie together.
This special showing of "Dolphin Tale" is Saturday, October 1, 10:00 AM, at Cinemark Carefree Circle, 3305 Cinema Point, Colorado Springs, CO 80922.
Tickets to this event are only available from The Shandy Clinic and are free of charge to families. Please RSVP to reserve your tickets and email or call us with the number of tickets you would like. Ticket pick-up is available at either the north or the south Shandy Clinic locations during normal business hours prior to October 1st.
Interested in future sensory friendly movies? Become a Facebook Fan of The Shandy Clinic to get notified of upcoming events.
---
Occupational Therapy for Kids?
A common question we get is something along the lines of, "I understand why a child might need speech therapy or physical therapy, but why would they need occupational therapy? Children don't have an occupation."
We like to think that a child's main job is playing and learning, and an occupational therapist can evaluate a child's skills for play activities, school performance, and activities of daily living and compare them with what is developmentally appropriate for that age group. Occupational therapy practitioners address psychological, social, and environmental factors that may hind an individuals functioning in different ways. This unique approach makes occupational therapy a vital part of health care for some kids.
So who might use an occupational therapist? Kids with the following medical problems may benefit from occupational therapy:
Birth injuries or birth defects
Sensory processing/integrative disorders
Traumatic Injuries (brain or spinal cord)
Learning problems
Autism
Pervasive developmental disorders
Juvenile rheumatoid arthritis
Mental health or behavioral problems
Broken bones or other orthopedic injuries
One of the activities that occupational therapists can address to meet children's needs is working on fine motor skills so that kids can grasp and release toys and develop good handwriting skills. Occupational therapists also address hand–eye coordination to improve play skills, such as batting a ball or copying from a blackboard.
An occupational therapist can also:
Help kids with severe developmental delays learn some basic tasks, such as bathing, getting dressed, brushing their teeth, and feeding themselves
Help kids with behavioral disorders learn anger-management techniques (i.e., instead of hitting others or acting out, the children learn positive ways to deal with anger, such as writing about feelings or participating in a physical activity)
Teach kids with physical disabilities the coordination skills required to feed themselves, use a computer, or increase the speed and legibility of their handwriting
Evaluate each child's needs for specialized equipment , such as wheelchairs, splints, bathing equipment, dressing devices, or communication aids
Work with kids who have sensory and attentional issues to improve focus and social skills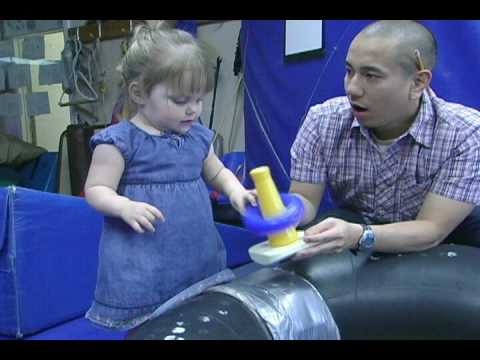 ---
What is the difference between Occupational Therapy and Physical Therapy?
When Amy and I were discussing opening The Shandy Clinic's, Amy's vision was to have a multidisciplinary clinic with Speech-Language Pathologists, Occupational Therapists, and Physical Therapists all working together to help patients. The fact that all three worked together was very important to her so I just went with it, even though at the time I had absolutely no idea what the difference was between a physical therapist and an occupational therapist. We even interviewed and hired a couple OT's and a PT and I still didn't fully understand what they did.
I think I've got a better handle on it now, so to avoid having to bluff your way through appointments like I did I'd like to help you out. First off, both types of therapy help kids improve the quality of their lives, the just focus on different areas. Physical therapy deals with the issues of pain, strength, joint range of motion, endurance, and gross motor functioning. Occupational therapy deals more with fine motor skills, visual-perceptual skills, cognitive skills, self care, and sensory-processing deficits. If that's still too much medical jargon, try this: PT = big muscles; OT = small muscles. That's not technically 100% accurate, but it will get you pretty close.
Since I've already posted about occupational therapy, following is some more information on physical therapy. Doctors often recommend physical therapy for kids who have been injured or have movement problems from an illness, disease, or disability; really any time a child has difficulty moving in such a way that it limits daily activities.
The physical therapist at The Shandy Clinic guide kids through:
Developmental activities such as crawling and walking
Strengthening around an injury
Adaptive play
Safety and prevention programs
Instruction on how to avoid injuries
Improving circulation around injuries by using heat, cold, exercise, and massage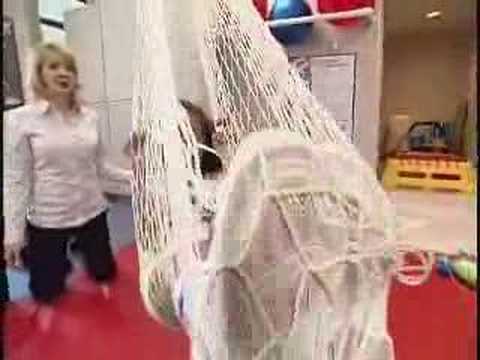 ---